Technology has continuously played a large part in the food safety industry. Food safety management technology is even more important to customers, restaurant owners and chefs. Without technology, the foodservice industry would still be relying on outdated manual paper based checklists and lots of guesswork in the data points gathered.
Food safety management technology is more important than ever to the food industry and will continue to be integral in helping all foodservice establishments achieve complete compliance. Many of these advancements wouldn't be possible without a few key innovators.
Protecting Customers with Tech-Enabled Traceability
Organizations that are in a position to rapidly identify and reduce contamination sources and remove contaminated products from shelves using data visualization and food traceability technologies will also position themselves as leaders in food safety management.
In order to achieve this, a company must understand the benefits of these technologies to their organization and be willing to implement them in their business plan as well as champion them as part of the overall shift in food safety which is heavily relying on technological advancements.
Adopting New Ways to Handle Outbreaks of Foodborne Illness
Realizing the value and importance of technology in the prevention of and response to foodborne disease outbreaks is an integral part of making sound business decisions and achieving leadership status.
The adoption of intervention technologies and descriptive analytics to conduct root-cause analysis (RCA) in food manufacturing can significantly improve the standard of health, as well as the corrective actions applied to pathogens and outbreaks.
Achieving Proper Food Handling at All Points in the Food Supply Chain
A crucial element of industry leadership lies in food safety through prevention, with a distinct focus on preventing the contamination of foods, from farm to table.
Food processing technology that assists organizations with food sterilization, training and certification, digital hand hygiene reminders, and temperature monitoring are smarter tools that every leader must include in their business model.
Cultivating a Culture of Food Safety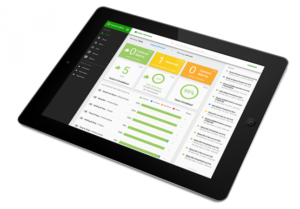 The technology used by industry leaders can help with the identification of barriers and opportunities with regard to food safety management. This allows food companies to cultivate a food safety culture that prevents foodborne illness.
Leaders also use technology to educate consumers about the importance and impact of food safety.
Pushing for Change in the Food Safety Culture
Businesses and organizations that have consistently pushed for change in the foodservice industry often become industry leaders. They're the ones who have adopted a new approach to food safety.
What does it mean to be considered a technological leader in food safety?
Simply put, it requires thinking outside the box. Some of the biggest technological advancements in the food industry today include:
Scannable packaging that informs on where the ingredients originated
Digital supply chain management
Wireless temperature monitoring
Automated workflow checklists
One significant innovation in the digitalization of food safety has been the digital checklist. A restaurant food safety checklist is nothing new, but when restaurants chose the pen and paper checklists of the past, there was always room for human error. Automated digital checklists eliminate that possibility, allowing businesses to set strategies based on reliable data and as a result – become leaders in their competitive niche.
ComplianceMate and the Future of Food Security
ComplianceMate is proud to be a leader in food safety technologies, thanks in part to automated temperature monitoring, data sets and digital checklists. They have setting the pace with patented IoT technology that helps to support many of the needs of the foodservice industry.
Remember, forward thinking is the hallmark of industry leaders in this new era. ComplianceMate has done that with fully automated food safety solutions like temperature monitoring and predictive data analytics.
ComplianceMate is a leader in efforts to improve HACCP-compliance checklists in the foodservice industry. They've done this by developing state-of-the-art digital solutions that optimize business intelligence in restaurants all over the world.
These products not only help to ensure that food businesses stay compliant, but that everyone within that business is on the same page about the production of food and food safety. When it's done digitally, there's less room for human error. With fewer mistakes, there are fewer food safety risks to worry about.
Continued Advancements for a Safer Industry
Food safety tech leaders like ComplianceMate, and others who adopt a stronger approach by leveraging technology, can help eliminate food safety risks and define the problems that pop up in restaurant kitchens. Food safety regulations are much easier to stay on top of when you're checking those hundreds of points off a digital list with the accompanying corrective actions.
While a restaurant and other food service establishments needs quality management and skilled individuals to step into action each day, the less room for human error, the better. As product innovation continues and more leaders implement food safety strategies, we can expect even greater things for the future of food safety.
ComplianceMate food safety solutions help you make the continuous improvements that lead to operational excellence; visit our website to schedule your free demo today.