Technology has continuously played a large part in the food safety industry. Food safety technology is important to both customers and restaurant owners/chefs alike. Without these advancements in technology, the food service industry would still be left to rely on outdated checklists and a lot of guesswork.
Food safety technology is important to the foodservice industry, and it will continue to advance in order to make all restaurants more compliant—but, these advancements wouldn't be possible without a few key innovators within the industry.
So, what does it take to become a technological leader in the food safety industry?
Pushing for Change in the Food Safety Culture
Businesses and organizations that have consistently pushed for change in the foodservice industry are often the leaders of technological advances in safety. They are the ones who have broken free from the mold of doing things the "old way."
What does it mean to be considered a technological leader in food safety? Simply put, it requires thinking outside of the box. Some of the biggest technological advancements in the food industry today include things like:
Scannable packaging that lets you know where your ingredients came from
Digital supply chains
Wireless temperature monitoring
One of the biggest innovations in recent years, however, has been the introduction of the digital checklist. A restaurant food safety checklist is nothing new, but when restaurants stick with the pen and paper checklists of the past, there's more room for human error. Digital checklists help to eliminate that possibility.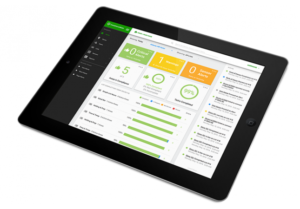 ComplianceMate and the Future of Food Safety
ComplianceMate is proud to be one of the leaders in food safety technology, thanks in part to automated temperature monitoring and digital checklists.
Remember, it takes forward thinking to become an industry leader in this area. ComplianceMate has done that by introducing fully automated food safety temperature monitoring and so much more.
ComplianceMate is a leader in efforts to improve HACCP-compliance checklists in the foodservice industry. They've done this by developing state-of-the-art software and innovative equipment that can be used in restaurants all over the world.
These products not only help to ensure that food service businesses stay compliant, but that everyone within that business is on the same page about food safety. When it's done digitally, again, there is less room for human error. With fewer mistakes, there's less of a risk for foodborne illnesses to occur.
Continued Advancements for a Safer Industry
Food safety tech leaders like ComplianceMate, and others who are willing to think outside the box, can help to put a stop to the risks and problems that pop up in restaurant kitchens all over. Food safety regulations for restaurants are much easier to stay on top of when you're checking points off a digital list.
While a restaurant needs qualified individuals to step into action each day, the less room for human error in a kitchen, the better. As technology continues to advance and more leaders step forward to make the most of it, we can expect even greater things for the future of food safety. Check in with ComplianceMate to see what those are.