Technology continues to evolve and get better in almost every industry. The food service industry is no exception. Food safety technology is more advanced than ever. The better these innovations get, the more confident restaurants can be in serving quality, safe food to their customers.
In order to ensure customer safety and a healthy kitchen, it's imperative to keep up with these trends. Let's take a look at some of the most innovative tech solutions making their way through the food industry today.
Advancements in Food Packaging Technology
One of the most innovative solutions that has grown in popularity over the last few years is innovative food packaging. Food safety doesn't just start in the kitchen. It starts from where the food is grown/produced.
Many food packages now have barcodes or QR codes that can be scanned. When you scan those codes, you can get information on where ingredients were harvested or where it was all packaged.
When you're able to get information about the food beneath the label, you can ensure it's safe to use before you even open the package.
Connect to a Digital Supply Chain
Consumers are becoming more aware of what they eat. As a result, there is a greater demand from dining guests to know where their food comes from. Many people prefer locally sourced, sustainable ingredients.
As a food service business, knowing where your ingredients come from and how they are treated is much more than a marketing technique. It can help to keep your kitchen safer. Thankfully, technology has kept up with this trend and has made it easier than ever to trace your supply chain digitally.
A digitally connected supply chain allows you to take charge of quality control and improve supply management.
Reduce Human Error with Automated Temperature Monitoring
Wireless temperature monitoring has become a huge asset to the food industry. Automated temperature monitoring helps to lower the risk of human error by eliminating the pen and paper checklists of the past.
Systems like ComplianceMate allow you to keep a food temperature log digitally. Software that builds a customized restaurant food safety checklist for your business will ensure that fewer mistakes are made in the kitchen. If there's an issue, the entire staff can be aware of it instantly.
Food safety checklists that include temperature monitoring can also be great for keeping a detailed workflow and creating daily, weekly, monthly, and yearly reports! Going digital with your restaurant's regular checklists is a great way to keep up with the latest trends in food safety technology.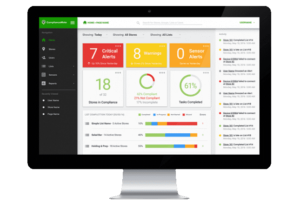 Tech Trends That Make a Difference
As you can see, keeping up with advancements in technology can make a big difference in food safety and how compliant your business remains under strict rules and regulations. While these changes and advancements can feel a little intimidating at first, they are designed to make things easier and more efficient.
Don't be afraid to do your own research when it comes to the latest tech trends. By implementing some of them in your business, you can ensure the safety of your food from the moment it arrives to the moment it reaches a customer's plate. Refer to ComplianceMate for the latest innovations.