Technology is ever evolving and continually providing the foodservice industry with countless opportunities to ensure food quality, optimize their food safety culture and improve ROI. This comprehensive guide to temperature monitoring systems contains important information to help you select the right one for your business.
Introduction
Restaurants, hospitals, grocery stores, convenience marts and all other types of foodservice industries must ensure the safety, quality and freshness of the products they serve to their patrons. It is also imperative to maintain compliance with HACCP standards for food safety.
Remote temperature monitoring systems are simplifying this for the foodservice industry and helping businesses protect their assets and maintain overall compliance while reducing food waste, shrink and protecting the health of their staff and consumers.
Risks and Consequences of Improper Temperature Monitoring
The failure to properly monitor, record and implement safe food temperatures carries a host of risks for foodservice businesses. Inconsistent monitoring and inaccurate recording of temperatures leaves food vulnerable to bacteria and other foodborne illnesses that risk everyone's safety as well as cause irreparable damage to the company's brand standards and reputation.
Food businesses that don't accurately monitor their food temperatures to ensure compliance also risk incurring significant costs to replace the spoiled products. Additionally, they spend far more time and resources than necessary to review and correct recorded temperatures that could have all been automated, reported and recorded with the use of temperature sensors in the appropriate locations.
Just one instance of improper temperature monitoring at a single location can have a negative effect on the safety and quality of the food, as well as prevent a business from being able to trace the foodborne illnesses to its original source.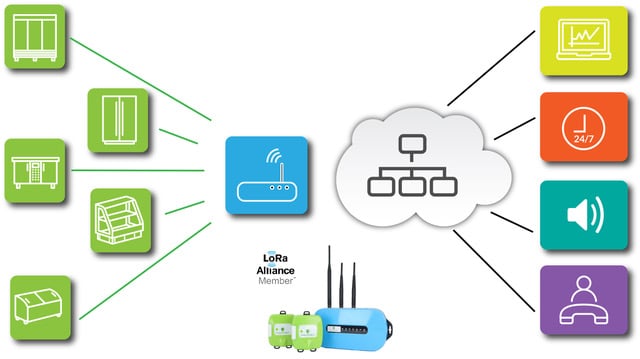 Why Temperature Monitoring Systems?
Temperature monitoring systems help to simplify the entire process by allowing businesses to consistently receive accurate, real-time temperature data automatically. This constant flow of data provides the information necessary to ensure temperatures are always within the proper range and meet safety protocols.
Automatic monitoring eliminates the need for manual temperature recordings and the potential for human error that can lead to compromised food safety. These systems also eliminate the risks of non-compliance, which can result in audits and fines.
Training and understanding of the uses of temperature monitoring systems highlights the importance of accuracy for employees and results in greater adherence to food safety measures. The temperature sensors can also trigger alarms when a door is left open, a cooler fails or power goes out - to name a few instances. Continuous temperature monitoring can reveal potential issues with refrigeration and other equipment, allowing for preventive action to be taken before any food spoilage and loss.
Business efficiency is another reason to choose temperature monitoring systems, which provide the data necessary for the analysis of appliance function, temperature alert records, and completion of checklists, to name a few.
The continuous logging of temperature data provides the information necessary for proving the safe temperature of food at every point. It also illustrates the importance of proper monitoring of temperatures to employees.
Available Temperature Monitoring Systems
Today's temperature monitoring systems have so many options from a static to a mobile settings. Sensors can be placed in refrigeration units whether they're located in a brick and mortar kitchen or food truck or delivery truck en route to deliver goods.
These monitoring systems offer complete customization and scalability for every type and size of foodservice business. They are also incredibly easy to install in any location and offer reliable, around-the-clock monitoring with real-time alerting and reporting.
Available systems also provide the opportunity to improve any type of workflows for easier processes, maintenance and HACCP compliance, while maximizing ROI as they increase a business's profitability.
Key Features of Temperature Monitoring Systems
Foodservice businesses looking to implement temperature monitoring, or that wish to upgrade with advanced technology, need to ensure the systems being considered contain certain features.
The accuracy of temperatures recorded by any system is an absolutely critical feature to ensure safety and compliance, and it provides the ability to discover and handle potential problems proactively.
Reliability cannot be ignored when choosing a monitoring system. The system must be able to record and transmit temperature data continuously, in any scenario and condition as well send alerts at the moment temperatures fluctuate out of range.
A quality system will also offer ease-of-use for both management and employees, making for easier adoption for new trainees and the ability to access important operational and performance data for owners and managers.
The ability to customize the system for data collection according to standard SOP documentation in any foodservice business and offer the opportunity for every company to get value for money.
Whattever temperature monitoring system you choose, it should also place minimal demand on your IT infrastructure with data encryption and other secure IoT protocols to ensure the constant collection and protection of all data being transmitted and stored.
The Right Solution for Every Foodservice Environment
The importance of maintaining food safety cannot be understated. ComplianceMate's suite of powerful solutions help you manage every aspect of your foodservice business.
LoRaWAN-based IoT temperature sensors, capable of transmitting data to a 10-mile radius through stainless steel and concrete, help you stay informed during power outages, humidity and temperature changes from wherever you are on any internet enabled device.
The customizable dashboard is the central location for all data collected from temperature probes and sensors. Data representation can be easily modified for the easiest interpretation. Multiple interfaces allow for several ways to access data, and areas needing focus are revealed in the custom reports that can be generated with ease.
Who We Are
ComplianceMate is a "IoT Innovator of the Year" winner whose patented temperature monitoring solutions are installed in all types of foodservice businesses around the globe - where they continue to prove their effectiveness.
See All of the Benefits for Yourself
There is nothing more important than ensuring the safety and quality of the food you sell, serve, or deliver. While our products do offer many benefits to foodservice businesses, the real impact of our technology must be experienced for a full understanding of what it can offer you.

Through the live demonstrations of our products, the ComplianceMate team has helped foodservice businesses of every size to understand the power of our systems and to implement every advantage they provide. Our live demos also provide the opportunity to ask questions about how our systems work and how they can support your foodservice business.

Don't wait to take action to ensure the safety and quality of your food. ComplianceMate product demonstrations are offered at no cost, and they can be scheduled and customized for your business by completing a short and simple form. Visit us for more information or call 678-346-0380.