Every food business must balance the management of their operating costs while exploring new solutions that improve their return on investment (ROI). Studies have revealed the majority of foodservice establishments accomplish a significant ROI by utilizing a food safety technology management system.
Available Food Safety Technologies
Applied at all points in the supply chain, a number of food safety technologies exist that are helping businesses to improve food handling, food quality, food safety, and productivity.
The use of automated sensors is allowing operations managers to ensure optimal temperature and humidity levels by alerting them to any changes in real time. Portable bluetooth thermometers capture a wide range of food checks almost instantly and transmit this data to virtually any device as well as to the cloud for proper data storage.
Digital workflow checklists eliminate the need for manual time-consuming tasks like data gathering while also eliminating missed checks and pencil whipping. While also positively supporting employee accuracy and accountability.
How Food Safety Technologies Improve Your ROI
Implementing a food safety management system can benefit several aspects of your business.
Reduced Time and Labor
The time it takes to complete certain paper-based tasks, such as temperature checks, can be drastically reduced through the use of technology. Today's technologies automate the data collection process, completely eliminating the need for paper records. This ultimately increases the amount of available time to devote to other areas of the business that need attention.
The amount of employee labor that is devoted to completing tasks can also be drastically reduced with food safety technologies, which not only reduce the time it takes to complete tasks, but also provide employees with instant access to the information they need to perform any corrective actions.
Reduced Spoilage
Spoilage costs food businesses thousands of dollars per year. Whether through unchecked temperature readings or undetected equipment problems - food waste can not only eat away at budgets with costly mistakes and repairs, but also undercut your bottom line.
When nonmodifiable data relating to temperature consistency can be recorded with a food safety management technology solution like temperature and humidity sensors and then made accessible to the operations managers, the actual temperatures—as well as any gradual changes—can provide a larger view of inventory and processes with total clarity.
With automated digital food safety programs, Operations and FSQA managers can review temperature logs for inconsistencies that may indicate the need for equipment maintenance, upgrades or replacement. Additionally food manufacturers can avoid any potential food product recalls.
Instant Alerting
The manual recording of temperature and data means that an owner may not be aware of inconsistencies for several days because they must be at the physical location to collect the recorded data and then invest the additional hours it takes to analyze, process and apply the data results.
When IoT sensors are installed, data is not only automatically recorded, but alerts are triggered and sent instantly when a temperature or humidity changes occur outside of an acceptable range. This facilitates a more proactive reaction to and management of the data and avoids any potential equipment failure. Ultimately ensuring a safe food environment.
Maximized Productivity
Technology like digital checklists can maximize the productivity of both the employees and management. Employees using these automated digital workflow checklists receive on the spot training and corrective action instructions in real time, which minimizes disruption in the workflow process and increases productivity exponentially.
The time to train an employee can also be greatly reduced through the digital checklist process allowing quicker employee deployment and the use of pre-programmed corrective actions. Managers use technology to review employee efficiency and initiate all corrective action where necessary.
Mitigation of Labor Shortages
Labor shortages in the foodservice industry can also be mitigated with food safety technology. It requires half the amount of time and staff to complete most food safety tasks. Many tasks, once automated like temperature monitoring, can eliminate the need for completion by human intervention. Automating these tasks allows managers to focus on maximizing the productivity of existing employees with additional tasks or responsibilities.
The Technology You Need to Streamline Foodservice Operations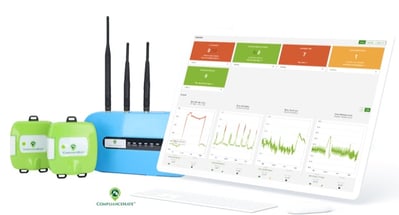 There can be little doubt about the benefits of a digital food safety management to your ROI calculations. Foodservice businesses wanting a better return on their investment with food safety software choose ComplianceMate.
The multifaceted software solution of workflow automation and temperature monitoring can be used by owners and managers to achieve food safety and quality in one or hundreds of locations.
ComplianceMate's customizable hierarchical dashboard provides managers with the convenience of being able to access, view, and analyze data from anywhere on any web enabled device and create custom reports, all with enterprise-grade data security.
The easy-to-use digital checklist interface benefits both employees and managers, helping employees maintain HACCP guidelines and be more accurate and productive, while giving managers the instant access they need to ensure smooth day-to-day operations.
Wireless Bluetooth capability, long battery life, and complete portability allow employees to complete a wide range of checks in seconds. Each probe can transmit data to Android, Windows, and other devices with an internet connection.
The IoT sensors are not only manufactured of high-quality materials, but are also able transmit temperature and humidity data through stainless steel, concrete, and other construction types for up to ten miles. The durability tested equipment ensures full functionality in all types of conditions.
Learn about how ComplianceMate can help streamline your operations by requesting your free demo with a CM specialist today.