(HACCP) - Hazard Analysis Critical Control Point is the generally accepted food safety management system used in the foodservice industry and food production industry. It requires businesses to improve and maintain their food safety procedures for all aspects of food preparation.
The goal of the HACCP protocol is to ensure a measured approach to food safety in all aspects of the business including biological, chemical, and physical hazards. Using the HACCP approach ensures a safe final product that is constantly HACCP compliant.
The key difference between HACCP compliance and HACCP certification:
HACCP Compliance refers to the proper execution of all aspects of food storage and handling; all of these aspects must be conducted in a safe manner with the appropriate corrective actions fully enforced and recorded for traceability. HACCP is a globally recognized preventive management system used to address food safety risks throughout the food industry supply chain. Critical Control Points are the steps in the process to control, prevent or at least reduce hazards.
HACCP Certification is achieved once a business has completed the required training as well as the HACCP Certification process.
With certification, the business is issued a postable certificate stating they are
HACCP certified and adheres to all compliance standards.
From a business perspective, becoming HACCP certified could help boost the business's branding and imaging and ensure the best product for the consumer.
How to Get HACCP Certified
The following preparation is required before starting the certification process and the United States Food and Drug Administration (FDA) has developed a set of HACCP principles and application guidelines to use.
The FDA's HACCP principles are broken down into seven basic concepts and steps, as follows:
Conduct a Hazard Analysis: Identify potential biological, chemical, food handling, storage, and preparation risks.
Determine the Critical Control Points: Identify what steps in the process that are necessary to prevent or eliminate food safety hazards could be developed to prevent potential hazards previously identified.
Establish Critical Limits: Set minimum and maximum control limits, such as the safe temperatures for food storage, or minimum and maximum cooking temperatures for different types of foods, and so on.
Establish Monitoring Procedures: Establish monitoring processes to enforce the previous three steps. This could be recording temperatures of walk-ins and other food storage areas on an hourly basis, observing how your employees handle food, and so on.
Establish Corrective Actions: Whenever monitoring procedures encounter an issue or problem, have corrective action plans in place and execute them as needed. For instance, if food in a cooler exceeds the maximum temperature established at a critical control point Discard the food as waste, and then determine why the cooler is not working and get it fixed. Food temperature monitoring is an ongoing, reiterative process.
Establish Verification Procedures: Once the HACCP plan, principles, and applications are being used on a daily basis, review the procedures and ensure they have addressed all critical control points and other potential hazards identified. Make the appropriate adjustments to the HACCP program as needed.
Establish Record-Keeping and Documentation Procedures: Create record-keeping and documentation procedures to show the recording and collecting of the temperature data, monitoring food handling processes, and so on.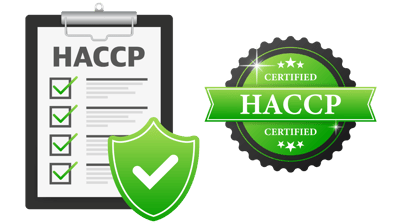 The most effective way to build and maintain HACCP compliance and set the path to earning a HACCP certification is to have a food safety management system in place.
ComplianceMate provides a HACCP compliant solution to optimize your food safety temperature monitoring as well as automated workflow processes. ComplianceMate's IoT monitoring systems makes monitoring effortless and helps automate and streamline workflows which ultimately protect your guests and your brand.
Click here to request a ComplianceMate demo of the HACCP tools available or 678-346-0380 to be connected with a knowledgeable team member.