Restaurant food safety should always be a top priority for any commercial food business. When safety comes first in a professional kitchen, the chances of a patron getting sick decrease. You'll also be better equipped to keep your employees safe and your kitchen cleaner.
One of the biggest issues in commercial kitchens is cross-contamination. In the food industry, cross-contamination refers to a transfer of harmful bacteria. This bacteria can be transferred from food, utensils, cutting boards, kitchen towels, etc. It is especially common with meats and seafood.
Cross-contamination can occur during meal preparation or even during storage. For example, if you have raw chicken thawing out in the refrigerator next to cooked meat, the bacteria from the chicken can transfer onto the meat.
Thankfully, food safety regulations for restaurants can reduce a professional kitchen's chances of cross-contamination.
How to Stop Cross-Contamination in a Professional Kitchen
There are a number of ways to prevent cross-contamination in restaurants. One of the most productive things your business can do is to create a restaurant food safety checklist. Your checklist should be a reflection of the practices that are most important to you at your restaurant. Some basic cross-contamination tips should always be included in order to keep everyone safe.
Some useful food safety tips to add to your list include:
Reminding employees to wash their hands after handling raw meats or fish, and after using the restroom.
Using separate equipment for different foods. This includes cutting boards, utensils, appliances, cutlery, etc.
Sanitizing all work surfaces after they've been used.
Your restaurant should also feature a hygiene program within your handbook or as a part of your employee training. When everyone is on the same page about what type of personal hygiene is expected, it's easier to maintain a clean, healthy kitchen.
Restaurant Temperature Monitoring
Another way to keep your food and kitchen safe is to make sure you're using a food temperature log. When certain foods dip below a safe temperature, they can become a breeding ground for harmful bacteria. This is especially true when it comes to cooked meats and fish.
Keeping your food up to temperature and never mixing it with food that isn't at the proper temperature can make a big difference when it comes to cross-contamination.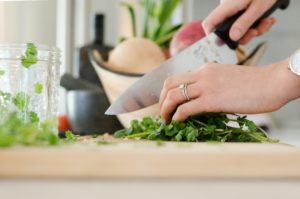 Keeping a Restaurant Kitchen Clean and Safe
Avoiding cross-contamination in your restaurant isn't an impossible task. In fact, most of the tips listed here might seem pretty obvious to you, but, as you know, when you're in the middle of a busy service it's far too easy for employees to forget about certain protocols, practices, and procedures.
That's why keeping a safety checklist is so important and can be such a useful tool in your kitchen. Keeping those lists in one place, by using a product like ComplianceMate, can make it easier than ever to keep your kitchen safe. If you're ready to reduce your restaurant's risk of cross-contamination, contact us to see how the ComplianceMate system can make it easier for you.