Food safety is always a top priority in any commercial food business. When safety comes first in a professional kitchen, the chances of a consumer becoming ill drastically decreases. The following tips will equip you with the needed information to keep your employees safe, your kitchen clean, and your customers happy.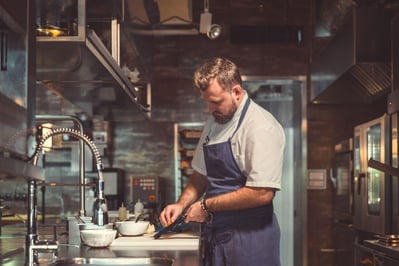 One of the biggest health issues in the foodservice industry is cross-contamination. There are four basic types of contamination: chemical, microbial, physical, and allergenic. It is the duty of all food handlers to make sure that the food they prepare is safe for consumption and free of any harmful contaminants. Thankfully, comprehensive food safety regulations exist for the purpose of reducing instances of cross-contamination.
One of the most productive ways to reduce the cross-contamination of food is to implement a food safety management system. This system should include a workflow checklist that contains all of the daily functions performed in a specific environment, such as a kitchen, plant, or facility.
For example, your entire food safety program should include all steps taken by staff in the environment to avoid cross-contamination and food poisoning, such as how to safely prepare and handle ready-to-eat food in a kitchen where employees will also be touching raw food.
Additional useful food safety tips to add to your workflow checklist include:
Preparing and handling raw meat in an area that is separate from cooked foods
Using separate equipment for different food types like cutting boards and cutlery
Washing cutting boards with hot soapy water, or using separate cutting boards
Sanitizing all work surfaces after they have been used for preparation
Storing foods separately, such as separating raw meat and poultry by placing them in plastic bags when thawing next to cooked meats
Ensuring that all kitchen uniforms are laundered properly in an industrial washing machine
Ensuring that employees wash their hands with warm, soapy water for 20 seconds before and after touching raw meats and after using the restroom, and that they dry thoroughly with paper towels
Providing a hygiene program in the employee handbook and in new employee training
Temperature Monitoring to Avoid Cross-Contamination
Another way to keep your food and kitchen safe in addition to preparing food properly is to implement a food temperature monitoring process. When certain foods fluctuate outside of safe temperature ranges, they can become a breeding ground for harmful bacteria and other contaminants. This is especially true when it comes to raw meat, poultry, and seafood.
Keeping foods in the proper temperature range and never combining them with foods at improper temperatures can make a big difference when it comes to avoiding cross-contamination.
Many kitchens rely on their employees to diligently conduct regular temperature checks, but manually checking temperatures can create more problems than they solve.
An owner cannot always be present in the back-of-house, meaning they may not see if an employee neglects or pencil-whips a temperature check. When temperature tracking has been manipulated, it appears as though temperatures were recorded at correct intervals when, in fact, they were not. This can lead to long-term inaccuracies and introduce the potential for cross-contamination.
Manual temperature logs force owners to be on-site to review and approve them. Because this is time-consuming, temperature log reviews are often overlooked.
Ultimately, the inconvenience and high-risk of manual temperature recordings can mean the continued fluctuation of temperatures until more serious symptoms of cross-contamination have occurred such as inventory loss due to spoilage, customer complaints, or legal complications resulting from foodborne illness. All of these place the very livelihood of the business at risk. It also places them in danger of non-compliance with HACCP regulations, threatening their certification.
Solutions for Accurate Workflow Processes and Safe Temperature Monitoring
Operational accuracy and efficiency are two of the most critical aspects of a safe kitchen. ComplianceMate's full suite of powerful tools include automated workflow checklists and wireless temperature sensors, which help owners reach two vital goals: streamline their entire operations and maintain a safe and auditable kitchen.
Digital checklists eliminate pencil-whipping while assisting employees in navigating the correct steps to ensure food safety. Management and employees can then take corrective actions that ultimately allow the business to maintain HACCP compliance. Owners and managers are able to access all checklist data from any web-enabled device for up-to-the-minute tracking and accuracy.
ComplianceMate's wireless temperature sensors offer Bluetooth capability, portability, and long battery life. Built with quality materials, these sensors can transmit data through concrete, stainless steel, and more, up to a minimum ten-mile radius.
They also record and report temperatures automatically and send notifications and alerts when temperatures fluctuate outside of the determined safe ranges. The data is stored in the cloud and can be viewed at any time from any web enabled device.
The customizable dashboard provides a hierarchical view into the real-time data for all locations. From the dashboard, the data can be arranged and analyzed, and reports created as needed.
ComplianceMate solutions are the choice for restaurants, food transport companies, factories, and all other foodservice businesses wanting to meet their own HACCP food safety initiatives as well as enjoy the many benefits of cutting-edge food safety technology.
Our solution helps you detect potential cross contamination before it becomes a major problem, and it helps you keep your environment clean and operating at peak efficiency. Contact us today at 678-346-0380 to learn more, or request a free demo that's been customized for your business.