When it comes to avoiding significant financial losses, a food safety monitoring system is an absolutely essential part of every foodservice business. Without the proper technology, you could be unknowingly compromising your food safety and your reputation. Here's how temperature monitoring with WiFi can help manage all those aspects of your business.
What Is WiFi Temperature Monitoring?
WiFi temperature monitoring occurs via sensors placed appropriately in your commercial appliances. It can range from smokers, milkshake machines and water baths to freezers and refrigerators. In addition to temperature ranges the sensors also monitor the humidity levels of stored food products.
All of the data recorded by these monitoring devices is sent via a wireless internet connection to any email addresses and/or phone number that you have selected for notification.
Beyond simply monitoring the temperature data, the WiFi monitoring system triggers an alarm whenever the appliance temperatures go outside of their normal ranges. Once triggered, the alarm automatically sends an email or text message to the selected contact persons to notify them of the event. If no action is taken, a phone call from the Support Center will be completed to ensure that the issue is being resolved and food loss is mitigated.
How LoRaWAN Temperature Alarms Work
On-site, the LoRaWan, (long range wide area network) temperature alarms, are an integral part of the temperature collection devices. The information these units like sensors and probes collect is stored in the cloud and can be accessed at any time via a wireless connection. That wireless connection is also used to transmit alerts when temperatures fluctuate outside of the appropriate range for immediate notification and completion of the required corrective actions.
The Benefits of Commercial Food Temperature Monitoring Alarms
The maintenance of safe temperatures is absolutely critical at every stage of the food handling process. Relying solely on manual temperature recordings can significantly raise the risks of foodborne illness, loss of food quality, and loss of food products. When wireless temperature monitoring is in place, foodservice businesses can realize numerous benefits.
Provides Information in Real Time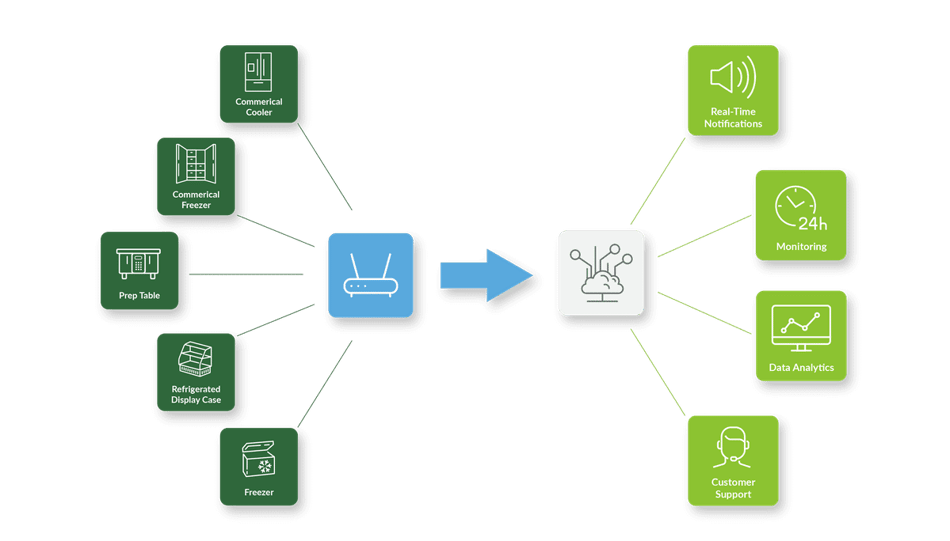 Wireless temperature monitoring eliminates guesswork by providing instant, real-time information about temperatures for all of your stored foods no matter what the temperature range. Real-time information also applies to the wireless hand probes used by employees to conduct temperature checks and complete the automated workflow checklists.
The collected information is available for view on any number of dashboards. These dashboards can be customized to each user across the organization. Additionally, there is robust reporting available as needed.
Incredible Versatility
The ability to monitor food temperatures remotely is by no means limited to on-site applications. Wireless sensors can be used to ensure the safety of all of your food products, even when in transit. This level of versatility allows you access to even more food safety data along the way to prove your compliance with health regulations and ensure the safety of your team and consumers.
Unprecedented Tracking and Control
Wireless sensors can be used for tracking and control of all foods, including the ingredients used to make them, at every stage from source to delivery. In knowing about the safety and freshness of foods en route, businesses are able to make a more informed decision about accepting and making deliveries accordingly.
Drastically Reduces Recording Errors
All of the operational staff in your business may spend a lot of time manually recording temperatures while completing their food safety checklists. The caution is that they may also be engaging in pencil whipping to save time and get tasks completed on time. All of this can be detrimental to the safety of your stored food products and your food safety culture.
The checklists provide an automated workflow process to follow which help in training new employees and keeping the processes flowing smoothly.
LoRaWAN temperature monitoring and alert systems allow for continuous temperature accuracy and consistency. It provides constant error-free, scheduled and complete monitoring and temperature checks at the intervals you determine without the need of staff or supervision.
Since these systems send alerts right away when temperatures fluctuate outside of acceptable ranges, you can take steps to correct any issues far sooner than you would with manual methods and avoid any potential losses in food and revenue.
Food Waste Reduction
Manual methods can cause businesses to waste thousands of dollars via food losses each year. Wireless temperature monitoring and alert systems provide you with the ability to see and analyze changes in temperature instantly, well before food spoilage occurs.
Integrating wireless temperature monitoring systems into your food safety program can also educate your employees about the importance of monitoring. This can make them more vigilant at reducing food waste through better monitoring practices.
Applications of Commercial Temperature Monitoring Alarms with WiFi
There's no doubt that wireless temperature monitoring and alerting systems offer several benefits to every food service business. Here are just a few real-world applications for these innovative systems:
Hospitality businesses – Hotels, resorts, and other businesses need to ensure that their guests have the best experience possible. Wireless temperature monitoring and alert systems ensure you're always serving fresh high-quality foods and drastically reducing the risk of foodborne illness.
Grocery and C-stores – Providing the freshest ready to eat foods in the deli, produce, bakery, seafood and meat sections is the highest priority and having a system capable of constantly monitoring with instant alerts when temperatures fluctuate out-of-range can allow you mitigate your risk of food loss.
Warehouses – Food storage businesses must ensure their products are at consistent temperatures, both at the warehouse and en route. Wireless temperature monitoring offers easy tracking and access to data while food is in transit, allowing you to ensure top quality from storage to delivery.
Restaurants – The appliances in your back of house kitchen are built to keep food fresh, but in the event of a power outage or your aging appliances failing cause temperature fluctuations it can result in significant food loss and excess power consumption. Wireless temperature sensors not only penetrate steel and concrete to send data and real-time alerts to a 10-mile radius, it assists in providing alerts enabling you to take the appropriate corrective action.
Choosing the Right Commercial Temperature Monitoring System
Where it comes to ensuring freshness, maintaining HACCP compliance, and reducing food costs and illness risk, temperature monitoring is only one piece of a much larger puzzle. Any system you choose should offer state-of-the-art technology, easy installation and use, and the ability to not only view but analyze collected data.
ComplianceMate is the ultimate checklist technology and foodservice monitoring leader. Since 2001, we have been providing the advanced technology foodservice businesses need to optimize safety and efficiency.
Our patented solution combines automated workflow checklists with data monitoring and reporting via real-time alerts for a complete back-of-house support.
We offer both LoRa and LoRaWAN gateway technology with bi-directional communication.This allows data to be sent and received through our network server over long distances, such as when food products are en route.
In addition to the LoRaWAN protocol, ComplianceMate uses wireless sensors—the most powerful available. Incredibly easy to install, the battery-powered sensors don't require any drilling; simply place in any appliance or equipment, and they're ready to transmit temperature range data through even the thickest physical layers.
Even in a power outage, our low-power, wide area networking sensors continue to collect data for transmission and storage in the cloud when the connection is restored. Data logs allow for a complete view of overall performance so you can address risks before they become disruptions.
Want to learn more about the powerful features and benefits ComplianceMate offers? You can request a free demo customized to your business; contact our food service experts today!