The food industry employs more than 10.2 million workers, according to the U.S. Bureau of Labor Statistics.
Of these, about 5.3 million are employed in full-service restaurants. From chefs to servers, from business operations managers to maintenance, the food service industry's workforce is its lifeblood. Ironically, it is also one of its greatest weaknesses, particularly when it comes to managing food safety risks.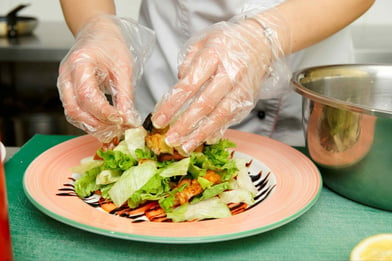 High turnover forces business operations to struggle with recruiting high-quality staff and then having to work even harder to get them up to speed on policies, practices, checklist completion and food safety procedures. Even then, errors can run rampant—as can fraud, theft and potential litigation.
Altogether, the food service workforce costs restaurants and the like more than just their paychecks. It also impacts the cost of labor, relative to revenue which can be a major contributor to unnecessarily thin profit margins. According to point-of-sale technology provider Toast, average restaurant sales per full-time equivalent (FTE), non-supervisory employee was $56,000. Compare that to $226,000 per grocery store or convenience store worker.
Here's the good news: technology can help answer almost any vulnerability that both new and existing employees introduce in both the front and back of house. From finding and training high-quality employees—to keeping and relying on them—to reducing error and fraud, using a strong food safety technology can rescue restaurants from their weakest link.
Employee Recruitment and Retention: Technology makes it easier to attract, hire, and retain great workers.
Recruiting continues to be the top problem facing 51% of restaurant operators, according to the data displayed in the graphic below. As well, recent data reveals that the restaurant industry's average churn is around 75%, with that number continuing to rise post-pandemic.
On the surface, high turnover in the food industry is understandable. Most restaurant employees—from waitstaff to kitchen workers—are using the job to bridge some kind of gap. They want to do a good job, but the transient nature of the industry's workforce means they feel less loyalty and are less likely to view their role as a career path.
But make no mistake: employing food safety management technology to help train staff and make their job easier can have a huge impact on recruitment and retention.
Technology makes the restaurant more attractive to workers.
Technology is second nature to today's workforce; trying to get work done without technological tools causes major problems. This is particularly true of the younger generation of workers. Researchers from PwC found that a clear majority (59%) of Millennials say that an employer's provision of state-of-the-art technology was important to them when considering a job.
But it has the same effect for training employees of all ages. One client - a small local chain, recently hired a new 40-something manager who had previously worked for 12 years as a General Manager at a big-box, nationwide chain. Why did he move to a smaller operation? In his words: "I was blown away when they started showing me the different technology that they use within the stores."
Technology makes it easier to do their jobs.
One major reason technology can have a positive impact on recruiting: it makes people more efficient at what they do. That PwC research report also found that four out of five respondents (78%) believe that access to technology makes them more effective at work.
That particularly helps in training sessions with employees with skills or language gaps. Many restaurant workers don't speak English as their primary language, for example, which renders language-intensive tasks (like paper checklists, data capture, and reporting) longer and more difficult to complete.
The type of training utilizing technology, however, can streamline these tasks and easily incorporate visual cues.
An automated digital checklist, for example, can be completed with minimum taps and swipes, and wireless probes can automatically fill in temperature recordings in just three or four seconds. The checklist app is highly directive with visual cues that lead the user through the process, step by step. It makes an otherwise tedious and time-consuming task simpler than sending a text message. Although our focus is on food safety management solutions, it's worth noting that other restaurant technologies also have similar beneficial effects here. Consider handheld server tablets. Instead of manually relaying orders to the kitchen—another time-consuming process prone to error—servers can place and communicate orders directly from the table. This reduces errors, speeds up service, and makes the dining experience easier on everyone.
Technology helps maintain employee honesty and accountability.
The manual updating of daily temperature logs can lead to pencil whipping, which can lead to potential food safety pathogens and food product problems. The problem of pencil whipping has far-reaching consequences for owners. Inaccurate, inconsistent manual temp logs and safety checks are unreliable and often inaccessible.
Replacing paper records with automated digital checklists from the ComplianceMate eliminates the lack of accountability, and owners receive real-time reports and temperature logs from several locations instantly. Logging of temperatures can also be accomplished in half the time.
ComplianceMate temperature sensors penetrate stainless steel, allowing for long-range monitoring and alerting, eliminating checklist falsification and contaminated food, and ensuring staff are held accountable.
Technology makes restaurants more rewarding for employees.
The server tablet example does more than streamline the ordering process; it also lines the servers' pockets with extra tips or corrective actions. QSR Online reports that the faster table turn and higher customer satisfaction resulting from such technology yields a "30% tip increase due to increased efficiency."
A comparative case study of San Francisco restaurant markets (where compensation tends to be higher) and the Research Triangle in North Carolina (where a wider spread of wages means lower wages for entry-level workers) illustrates how higher compensation yields lower turnover and greater stability (see the figure below: turnover in Research Triangle is nearly double San Francisco's).
Technology helps enhance food safety culture.
A food safety culture constantly raises awareness about foodborne illnesses and the importance of safe, fresh food to public health and the restaurant itself. Technology holds many benefits for companies initiating or wanting to improve upon food safety culture.
It is a safety solution that helps restaurant and food manufacturing employees understand responsibilities and alert them to potential kitchen equipment issues. It also raises awareness about code violations, and the importance of reacting quickly to resolve them.
The right technology can work wonders in the employee training process, helping owners with employee retention, HACCP compliance records management and food safety regulations. The ComplianceMate food monitoring system streamlines the restaurant supply processes for improved business operation.
To learn more about our food safety solutions and their benefits, download our whitepapers, or schedule your free demo of our digital field apps today.
Download this Whitepaper: