The food industry has faced serious challenges in the past year, with declining revenues, labor shortages, and a major overhaul of the industry itself. Facing these struggles and developing creative technological solutions is transforming how all industries do business, but the dining, grocery, c-store, and cafeteria experience has been impacted particularly hard.
Despite the losses that many restaurants suffered in 2020 and 2021, business analysts predict that fast casual dining will re-emerge, bringing in $931.7 billion in total sales by 2027.1
So how can this industry be best served to continue to survive?
Leveraging these 3 technology foodservice emerging trends for 2022 will put your business on track for streamlined operational success moving forward.
1. Automating and Streamlining Workflows
hanging to a digital record-keeping system is helping many businesses in the food service industry to solve their labor shortage impacts by enhancing the onboarding and training process, streamlining workflows, proactively monitoring temperatures to prevent spoilage, and forecasting inventory more effectively.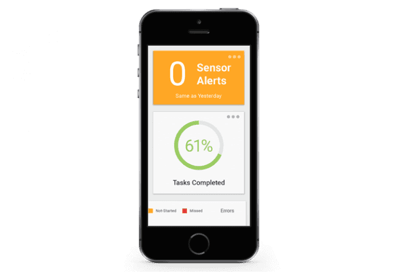 These digital solutions can also:
Automate

inventory management

to eliminate food waste.
Track safe food temperatures and handling procedures.
Leverage mobile apps for ordering.
Identify areas of improvement.
Signal when menu items are out of stock and alert on inventory levels.
2. Transforming and Expanding Customer Options
By using technology like self-ordering kiosks, remote temperature monitoring, and deep data analysis, the food service industry is finetuning its operational execution while expanding their customer options and making their products and services more accessible. Restaurant trends indicate that 59% of orders are now consumed off-site, which allows new business models to develop.1
Recent restaurant innovations in customer convenience and cost-effective transformation include:
Curbside pick-up programs require rigorous temperature monitoring for safe food handling procedures and time management in the kitchen.
Prepare-at-home meal delivery services and community-supported agriculture (CSA) services expand plant-based cold food sales.
Extensive online and self-ordering options allow the customer to fully personalize their order, which often results in additional revenue.
Ghost kitchens have no dining room or ordering counters. Ghost kitchens require customers to order in advance and pick up at a take-out window or enjoy home delivery.
3. Implementing AI and Automated Workflows Where It Makes Sense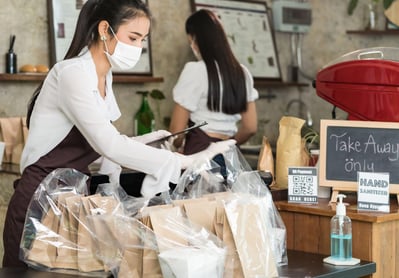 Artificial intelligence (AI) is being used to solve labor shortages and improve the customer experience. Operational technology continues to help onboard and automate repetitive tasks that allow restaurants to better leverage their staff as well as reduce the amount of staff required.
AI and IoT offer these restaurant solutions in 2022:
Automated workflow checklists for the back of house

IoT temperature monitoring

and warning systems to alert to any unsafe or mishandled perishable stock or prepared meals at unsafe temperatures
Automated robochefs or robotic equipment to cook with high accuracy and consistency
Automated inventory management, where AI manages ordering and inventory levels based on data analysis
Technology and the need for change can serve as a catalyst for re-imagining what any organization can become. As you explore the best new technologies available in the food service industry and beyond, finding a partner in smart kitchen technology can help you choose the best solutions for your unique business requirements.
ComplianceMate has the experts in wireless LoRa sensors, handheld Bluetooth devices, and proprietary software solutions to fast-track the changes you need to make. Contact us today for a free demo or consultation to learn more about the emerging technologies that are transforming the restaurant, grocery, c-store, or cafeteria industry in 2022.
Sources: