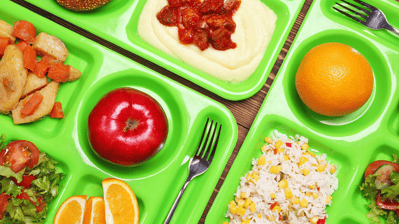 Whether it's an on-campus restaurant, prep area or cafeteria, the importance of food safety compliance in schools cannot be understated. Manual temperature checks can leave food vulnerable to spoilage, risking foodborne illness. Thankfully, many food and nutrition services are using software and technology for food safety and regulatory compliance.
Streamlining Processes with Monitoring Systems
Unlike manual methods of HACCP data collection and tracking, monitoring systems no longer require hours of time or the presence of staff to be completed.
Digital workflow checklists mean that cafeteria or campus restaurant employees complete HACCP processes in seconds and with ease. Checklists can be used to complete safety and brand-specific benchmarks, document shift notes, track food waste, and much more based on the needs dictated by the environment.
All temperature, checklist, and similar data are sent to a central database, which can be accessed and analyzed by any program director or operator at any time from any web enabled device.
Ease of use and user-friendliness of this software allows for specific data extraction and presentation, giving school nutrition directors and others a full view from a single kitchen's performance, or the overall performance of numerous kitchens in a district and beyond.
Enhancing Compliance and Documentation
Food safety technology in education helps public and private schools facilitate compliance with:
The food safety and quality standards of each institution
The National School Lunch Act
HACCP principles and
Department of Agriculture requirements
As well as additional international standards.
Cafeteria employees can complete digital checklists in a fraction of the time of manual methods. Because data is time-stamped the second it's recorded, providing accurate, reliable, and relevant data requested during compliance audits is effortless.
As well, the central database makes it easy for auditors and inspectors to interpret and confirm data collected by wireless temperature probes and digital checklists. Its in-depth, customizable innovative publishing ability allows all data to be extracted, graphed, and printed.
Real-Time Monitoring and Alerts
The ability of software solutions to monitor critical control points continuously and in real time can save thousands of dollars yearly in food waste across numerous school kitchens .
Temperature, cooling, and humidity alerts generated by real-time monitoring systems are transmitted as soon as temperatures migrate out-of-range. This allows those responsible for the child nutrition programs to take measures to preserve food safety and freshness of school meals immediately.
The role of IoT monitoring in the food safety programs of school kitchens, restaurants, and cafeterias is significant. Not only does it allow for real-time temperature data collections, but IoT provides the opportunity for data collection and transmission to occur securely, 24 hours a day.
ComplianceMate's LoRaWAN sensors are powerful enough to penetrate heavy commercial kitchen construction materials like concrete and stainless steel. Alerts are transmitted to directors via text or email or by calling using secure and appropriate protocols for the food safety industry.
The solution can be implemented with minimal IT infrastructure and integrated with any existing monitoring and compliance system already in place.
The use of ComplianceMate's low-power, wireless LoRaWAN temperature sensors also means that schools can monitor and receive temperature data automatically and continuously. Their long battery life allows temperature to continue to be monitored throughout power outages and school holidays.
Data Analytics and Insights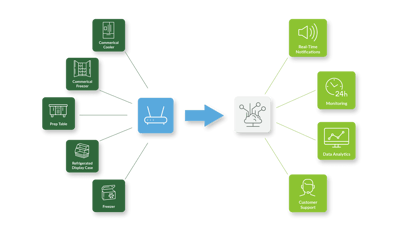 Data analytics provide school kitchens, campus restaurants, and cafeterias with the means to manage every aspect of their operations. When all collected data can be stored, viewed, and extracted in a single location, operators are able to identify patterns and trends and gain insight into areas that would benefit from improvements and enhancements.
ComplianceMate's software and monitoring systems provide directors with comprehensive recording, viewing, and manipulation of any number and type of data so that timely and meaningful action can be taken.
Collaboration and Communication
Software for food safety and HACCP compliance help school nutrition program directors and operators improve the way they collaborate and communicate.

For example, a school kitchen that employs digital checklists will experience a much higher degree of accuracy than those that rely on manual methods. With digital checklists, directors and operators are notified as soon as tasks are completed.

Software also eliminates duplicate lists. Schools no longer have to run the risk of inaccurate recordings, as digital checklists provide accurate data independent of human interpretation.

Teamwork across one or several kitchens can be enhanced with foodservice solutions like ComplianceMate. The central database can be accessed by anyone with a managerial role, whether they are located in the same institution or in several.

The ability for all data to be stored in a single location allows for far easier collaboration between directors, which can help standardize protocols and provide quality assurance.

The impact of software solutions on food safety in educational institutions is and will continue to be significant, making it even more important for public and private sector educational institutions to consider the implementation of CoimplianceMate's solutions.

Discover how ComplianceMate can revolutionize your foodservice operations. Fill out our web page to schedule your free, customized demonstration.