Technology can revolutionize your back-of-house, allowing for accurate temperature monitoring, employee accountability, and food safety.
What are the essential questions that you should ask before purchasing back-of-house software for your food and hospitality business?
How Will the Software Track and Monitor Food Safety?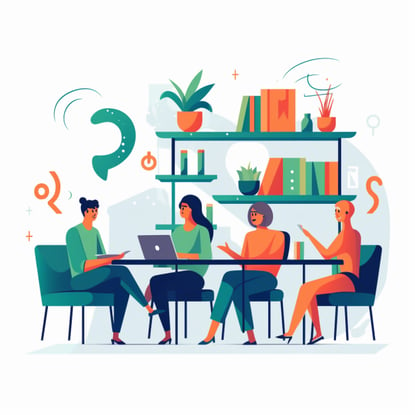 The HACCP system is meant to prevent the contamination of food, but this system must be properly implemented and managed; otherwise, it won't be able to drastically reduce food waste and contamination, nor the operational issues which cause them.
ComplianceMate software tracks and monitors HACCP compliance, enhancing the food safety culture at your business with several powerful features.
Wireless sensors and digital checklists allow for continuous temperature monitoring in real-time. This eliminates human errors in temperature recordings by your staff that can lead to issues with food safety and HACCP compliance. The system also sends alerts when temperatures are not at par levels. These alerts can be sent via text, email, or direct call.
The alerts themselves can be an early indicator of potential equipment failure before food spoilage occurs, and they can provide the opportunity for action to be taken well before food reaches the customer's table.
Unexpected power outages can leave food vulnerable to spoilage. ComplianceMate sensors keep logging data throughout a power outage. Once the power is restored, collected data is immediately sent via an email, text, or phone alert.
All checklist and temperature data the system collects and transmits is stored securely in the cloud for authorized personnel to access and analyze, no matter where they may be at any given moment.
The storage of so many types of data allow for thorough audits as well as the ability to prove compliance with food safety regulations. All information is available to be processed and sorted with our full-featured dashboard, which also offers integrated analytics for a complete view of your business.
ComplianceMate can help with the reduction of food waste, improved audit scores, claims reductions, root cause analysis, and an enhanced food safety profile. In fact, those who have implemented our software at their business were able to improve their audit scores by 20% and reduce labor costs associated with HACCP by more than 50%.
Regardless of the compliance metric that you need to integrate, ComplianceMate can handle it all.
How Does the Software Integrate with Existing Systems?
Food and hospitality businesses must always be in a position to continue serving customers, even during the implementation of new software. When software is difficult or impossible to integrate with an existing system, the availability of a business can be severely compromised, leading to drops in revenue.
The right software should never force you to risk the shut down of your business or the laying off of your staff members just so you can benefit from current technology.
ComplianceMate understands the importance of seamless integration because we understand the food and beverage and hospitality industries. This understanding has resulted in a system created for simplicity and excellent compatibility. It brings all of the data from front-of-house and back-of-house together into a central hub, accessible via our web application.
Our low-power temperature monitoring sensors require only an Ethernet connection and two lithium batteries, and they can transmit data through stainless steel, concrete, and other barriers to a 10-mile radius.
Our software integrates effortlessly with your point-of-sale (POS) system, but that is only the beginning of its benefits. Most restaurants also use devices that front-of-house employees use to take orders in-house and online, as well as software related to the training and scheduling of employees.
Switching to our innovative digital solutions means that all data collected by employees is transmitted to the central database to be instantly integrated with all other information obtained through our temperature sensors and additional features.
ComplianceMate makes all of your integration wishes a reality, with the benefit of added convenience; restaurant managers can access digital checklist completion data from any web-enabled device, from any location in the world.
Restaurant owners may need to analyze data or generate financial reports, but they can spend countless hours trying to accomplish this manually or with proprietary software.
ComplianceMate also integrates seamlessly with your existing accounting software, making all information accessible without the need to spend an inordinate amount of time to search for, collect, or input data into the system manually.
How Does the Software Assist with Inventory Management?
Inventory management can be a daunting task for one location, let alone when there are several. Here, too, is where a system needs to shine. ComplianceMate offers owners a complete solution where every important piece of data can be input directly into the system.
Once implemented, ComplianceMate allows you to know instantly when operational checklists have been completed and know exactly where you stand with your supply. What are the implications of this? Consider that eliminating the purchase of unneeded food alone can save your businesses thousands of dollars. Yet this is only one important benefit.
The ability to use digital solutions for inventory management also prevents the need to resort to processed food to meet customer orders due to an unexpected lack of supply, which can occur as the result of the challenges and high-error potential of manual recording.
With ComplianceMate, you can always serve fresh food for a guest experience that continuously exceeds their expectations. Our temperature sensors are designed for 24/7 monitoring and alerts when temperatures fluctuate, allowing you to minimize inventory losses.
Inventory management can also mean paying your employees for what can be several hours to complete it. Not so with digital checklists, which allow employees to work quickly and efficiently for drastic increases in productivity, which lower your labor costs and those costs associated with having to correct human error.
If you happen to own or manage several locations, ComplianceMate allows for inventory data from each location to be effortlessly imported directly into your dashboard for easy access. Then, all inventory data can be viewed simultaneously, making it incredibly simple to generate reports and then review and make comparisons.
What Type of Training and Support Is Available?
There's nothing worse than investing in a system, only to be left to try to figure it out on your own. This is never the case when you choose ComplianceMate.
Right from the start, we are there to help. Simply request a free demo, and we will arrive at your business to show you how easy our system is to learn and use.
Be forewarned: Your demo won't be a generic, watered-down version of our software. Instead, we arrive at your location with a demo that has been customized specifically for your business, with all features intact for you to see and try for yourself.
Once you've decided to purchase ComplianceMate, your sales rep and onboarding specialist are there for you. When it's time to install and implement your system, you will receive all of the documentation you need. We'll also provide you with customized video training to ensure you can get our system off the ground as quickly as possible.
You will also get access to around-the-clock live support through our call center, which can also handle problems associated with unsafe food storage conditions due to equipment or power failure. When one of these alerts is received, our call center can be instructed to contact any supervisor or manager you specify so that issues can be corrected quickly.
Innovation, Time Savings, Seamless Data Integration, and More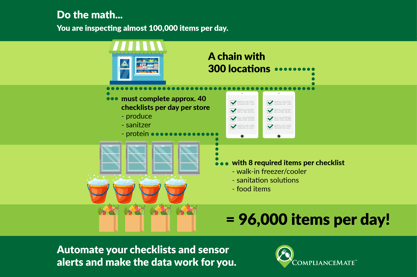 Improving your profitability and operations means making as informed a decision as possible about your software.
The ability to track the temperature of frozen and refrigerated food is always essential. ComplianceMate solutions continuously monitor all food served to customers to ensure safety.
Our low-power LoRaWAN temperature sensors continue to work through outages, with batteries that typically last for three years before replacement is needed. There's no limit to the number of sensors you can use.
Seamless integration is an absolute must for restaurants and hospitality businesses looking to implement new digital solutions. ComplianceMate places the power of integration directly into your hands with support for multiple file extensions, compatibility with accounting software, POS systems, and more.
No longer will front-of-house managers need to search into the wee hours of the night for bits of data stored in proprietary software or pieces of paper; ComplianceMate makes it incredibly simple to transfer information between systems and into a central hub, easily accessible via a web app.
Conducting inventory can require the shutdown of your business, not to mention increased labor costs and the high risk of errors, which can lead to unexpected shortages. Consider ComplianceMate your property management system, with sensors to help minimize inventory loss and digital checklists to help employees complete inventory tasks effortlessly .
No system's installation can offer you value without also offering proper and thorough training, along with accessible support. We'll customize your free demo specifically for your business and assign an onboarding specialist to help you implement our solution quickly.
You'll also receive full documentation and customized video training for all in-house staff, from line cook to management. Finally, access to live 24-hour support from our professional team will help keep everything running smoothly.