The restaurant industry has been stretched to the breaking point through losses driven by COVID-19.
It's not just the loss of consumer demand and top-line revenue, either. Restaurant owners and brand executives have more obligations on their plate than ever. In the post-coronavirus era, restaurants have no choice but to eke out as much labor productivity as they can from remaining resources. They need to get the same or even more work done with fewer hands and in less time, even as they need to spend more time than ever developing survival strategies for their brands.
Automation is how restaurants can meet objectives in less time with fewer people.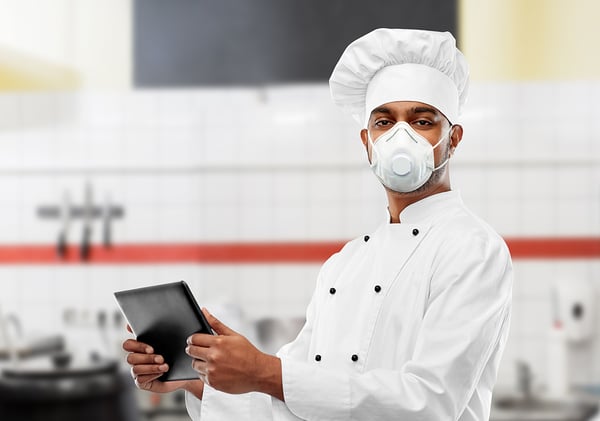 Automation means using machines and Internet of Things (IoT) style sensors to monitor kitchen operations. Any time conditions fail to meet pre-set thresholds, the system will generate an automated, real-time alert that can be distributed through multiple channels (email, text message, phone call) to appropriate stakeholders.
For example, remote temperature sensors in cold-holding equipment can monitor temperatures at all times and send out a notification if temperatures rise above, say, 40°F. It's like paying someone to sit in your walk-in and stare at a thermometer all day, but at only the cost of a sensor and with no manhours wasted.
Automated food safety enables restaurant operators to fix problems before they metastasize into crises.
Food safety is primed for this kind of automation. In fact, relying on humans to produce the data (as with pencil-and-paper temperature logs) is prone to delay, error, and sometimes even fraud (pencil-whipping). Worse, this kind of manual data cannot be easily communicated since it's trapped on paper.
Technologies like automated sensors, by contrast, work without human intervention. They continuously transmit temperature data to a cloud-based reporting system in real-time, so that the data is accessible by any authorized user from virtually any cloud-connected device at any time.
An automated system enables restaurant operators to respond immediately to fix the situation before inventory is lost or other problems occur without having to spend even a single man-hour monitoring the situation.
Indeed, this approach is common throughout the business world. IT departments use it to manage security and performance issues. Hotels revenue managers use it to focus their time on high demand and high occupancy days. The core idea is to "pay attention to what is important, only when it is important," writes by Marco Benvenuti, Chief Marketing and Strategy Officer and Co-Founder of Duetto, a technology platform for hotel revenue management.
And restaurants use automation to monitor food safety.
Automation is especially critical to help with COVID-19 safety checks.
The coronavirus pandemic is hitting restaurants especially hard. Many restaurants have been forced to close in-store dining rooms, instead shifting to delivery, drive-thru, and takeout formats. And as restaurant owners consider how to best attract wary guests back to their stores as lockdown orders are slowly lifted, they must monitor more safety processes than ever, at a time when they can't spare a single manhour.
For example, most restaurants are trying to implement extra sanitation, new employee wellness checks, new training for workers to follow infection-prevention protocols, and more. All of this requires additional checks and monitoring. The more of these processes the brand can automate, the more time they free, and the more the rest of their staff can focus on keeping stores open and staff on the payroll.
"We immediately spent 50% less time on the computer with ComplianceMate, so I loved it immediately," says John Lasater, Executive Chef of Nashville Hot Chicken eatery Hattie B's. The ComplianceMate system incorporates automation as a central tenet of its functionality.
Most importantly, combining automation with real-time reporting and instant warnings allows restaurants to get in front of potential food safety incidents.
While responding to such alerts may sound like a purely reactive way to handle food safety, it actually moves the window of alert-and-action to before an illness outbreak or other problem, allowing restaurants to take a proactive and preventive stance in protecting their customers and their brand.
And all of that is to say nothing of the standard benefits of any form of automation: labor reduction, cost savings, greater consistency and reliability, the elimination of human error, and more. Industry analysts at consultancy firm McKinsey estimate that with automation 60% of occupations could save 30% of their time. That might help organizations to recoup the estimated 20% to 30% of revenue they lose each year due to inefficiency.
And it's all thanks to the power of automation in food safety applications.
ComplianceMate™ streamlines HACCP compliance checklist and cooler monitoring for thousands of restaurant locations across the US and globally. With award-winning wireless temperature sensors, mobile technologies, and easy-to-use tools, ComplianceMate™ gives users total control over food safety and compliance.