Flexible Checklists for Any Compliance Rules
Accurate, reliable temperature data is critical for HACCP compliance and brand-specific standards. That's why ComplianceMate enables staff to quickly probe, record, and log product temperatures, critical checks, and corrective actions. An easy-to-use mobile app guides them through the process, so they can log HACCP data and complete checklists easily and efficiently. Management can access paperless, digital documentation of critical data for all stores.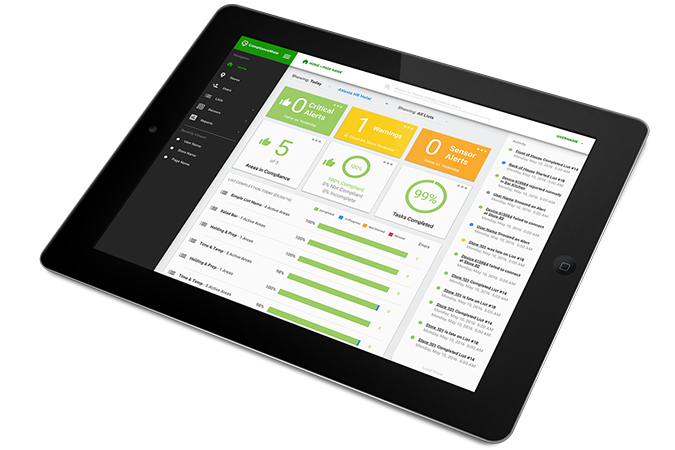 Time & Temp Checklists
Put your time & temp checklists on autopilot. ComplianceMate makes it easy for kitchen staff to log accurate time and temperature data.
Operational Checklists
Integrate any operational checklists, including simple opening/closing checklists and unique, brand-specific guidelines.
Self-Auditing Checklists
Move your audits away from spreadsheets and into straightforward, cloud-based tools. ComplianceMate supports any self-auditing checklist.
Warming/Cooling Logs
Maintain complete warming and cooling logs with all the data your kitchen staff (and the health inspectors) need.
Cleaning Checklists
ComplianceMate checklists cover cleaning, too. Add checklists for any cleaning-related compliance, including weekly, monthly, or quarterly tasks.
Process Guidance Checklists
Use checklists as training tools or "how to" guides for brand-specific processes. ComplianceMate supports step-by-step process guidance, including training videos.
Real-Time Data Monitoring and Reporting
3,376,573,200
Reports Generated
80,760
Hours of Continuous Monitoring
22,897
Active Monitoring Devices
Access real-time checklist data from any web-enabled device. No matter where you are, you can verify whether staff are completing your operational checklists and view any data they log. Want to know when something isn't compliant? ComplianceMate sends you an alert, so you can prompt staff to take corrective action immediately. You can also pull detailed, time-stamped reports across any checklists within any date range.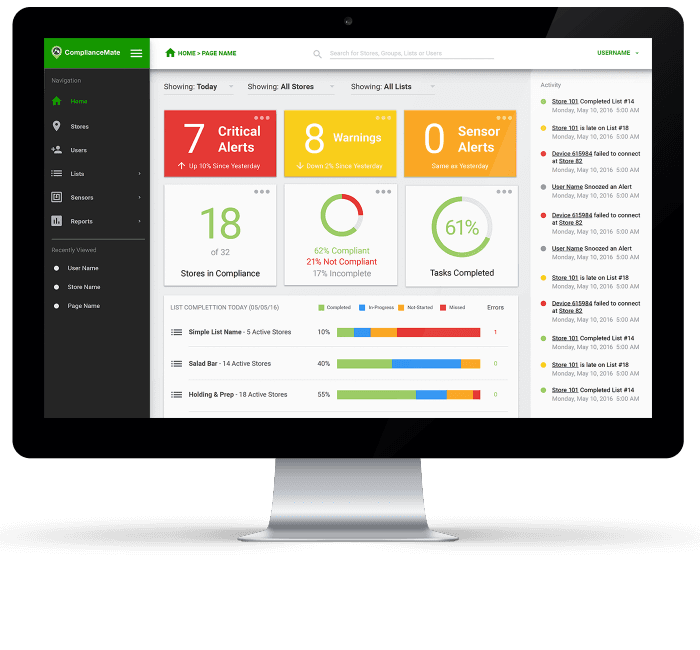 View Corrective Actions as They Unfold
1,000,000,234,567
Reports Generated
987,654
Hours of Continuous Monitoring
30,921,508
Active Monitoring Devices
When your staff takes corrective action to ensure compliance with HACCP or brand-specific requirements, you can see exactly what happened – in real time. ComplianceMate also supports rich media, like photos and videos, so staff can complement checklist entries with visual documentation.