Restaurants and food service establishments face a constant challenge in proving that inventory and prepared foods have been maintained at safe temperatures throughout their handling. Without understanding the temperature history of food products by continuous monitoring, restaurants experience as much as 85% of their product loss as a result of time and temperature control. Monitoring food temperatures is the key to maintaining quality and preventing foodborne illness.
The Internet of Things (IoT) allows restaurants to use wireless temperature sensors to continuously monitor food safety and generate real time alerts as soon as a problem is detected. These new solutions lead many in the restaurant industry to ask "What are the benefits of having a wireless temperature sensor in your foodservice establishment?"
Improving Food Safety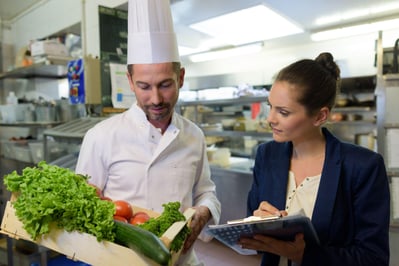 Installing a remote temperature monitoring system gives you a real-time view and a historical record of the status of each food item. These sensors can be added to stationary or transporting freezers and refrigerators to maintain food at its ideal temperature. It is applicable for both hot or cold holding units. Wireless hand probes allow staff to complete quality control checklists and line-checks with complete accuracy.
Temperature checks should be performed when new inventory is received, and shipments should be refused when foods are not at or below a safe temperature upon arrival.2 Wireless sensors can even report on humidity levels and can track the entire history of ingredients and prepared foods from truck to table or home delivery. Using these IoT solutions, all food services and restaurants have the ability to ensure safe food handling at a level that was previously unachievable.
Eliminating Manual Processes and Human Errors
Wireless temperature monitoring and reporting streamlines processes in both the front and back-of-house can save the staff time while increasing the accuracy of existing protocols involving time and temperature for foods in storage or on the line. Some of the ways a ComplianceMate system increases efficiency and performance include:
Easy to use tablet or handheld devices with internet connectivity accurately log checklist data.
Less time is spent manually logging temperatures and dates.
There's no opportunity for handwriting errors or deliberate manipulation of temperature checking procedures.
It provides access to data for analysis by management to gather insight and identify or excelling problem areas of the business.
It improves compliance and inspection performance scores with accurate and complete data.
You can protect your operation, your guests, and your brand by preserving food quality at every step.
Reducing Food Waste and Spoilage
Using an automated monitoring solution, much of the food waste and spoilage your business experiences can be prevented. Without accurate data and real-time alerts to equipment failures and temperature problems, many times food must be discarded out of an abundance of caution. When you don't know how long the refrigerator door was left open, or when something goes wrong in the middle of the night, an entire inventory of fresh meat or vegetables might be lost.
Monitoring the temperature with a smart ComplianceMate system helps prevent expensive product loss by alerting the owner or manager as soon as temperatures move outside programmed ranges or when an equipment malfunction is detected. This empowers you to be proactive and correct problems before food has time to spoil or must be thrown away because no one heard about the problem until it was too late.
Real-time alerts also help prevent loss because of human errors that go unnoticed. If required checks are not completed on time or temperatures fall outside of recommended guidelines because doors are propped open or other procedural mistakes are being made, management is automatically notified without requiring employees to report their own mistakes or oversights.
Having Restaurant Data Accessible for Analysis
If you are looking for ways to improve your processes and boost efficiency, there is nothing more useful than accurate data about the current state of your business. Using a temperature monitoring and control system like ComplianceMate allows you to view reports and analysis on cooler performance, checklist completions, records of alerts, and corrective actions taken at one restaurant or across multiple locations.
Having 24/7 access to business intelligence data allows you to spot failing equipment, identify trends, implement training programs, and recognize excellence. You can access these reports from anywhere in the world through our secure system, using a webpage or mobile application.
Maintaining Consistent Quality
One of the hallmarks of a great restaurant is consistent quality that customers come to expect from your name brand. Hiring the best chefs and servers and giving them consistently high-quality ingredients produces delicious meals that customers return to enjoy again and again.
Maintaining high-quality standards is vital to the retail food industry and hospitality businesses, as is complying with state and federal regulations regarding food safety and handling. Installing a temperature control system benefits these two factors simultaneously and will protect your brand reputation while helping ensure customer satisfaction and loyalty.
Leveraging the Latest Technology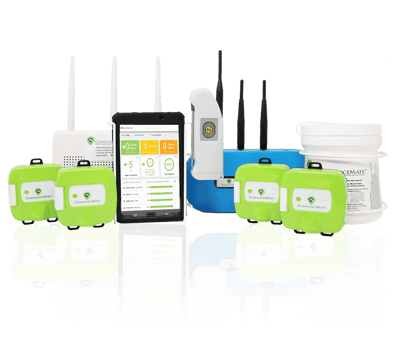 The use of IoT temperature monitoring and digital temperature checks is rapidly growing in the restaurant industry, along with transportation, warehousing, and food production facilities. If you are not looking into the latest technology to protect food safety and quality, you may soon fall behind the curve of adopting these technologies.
If it has been a while since you researched remote temperature monitoring systems, you might be pleasantly surprised at how the technology has improved. Currently:
More affordable than before, and very realistic for most restaurant budgets, especially when they prevent costly issues and product loss, these systems have a high ROI.
More reliable and operational 24/7, they allow management and owners to access real-time alerts and data from anywhere with internet access.
More customizable, with configurable thresholds for time and temp, they allow for corrective action to be taken before food quality is impacted.
More scalable, they grow with your business as you add locations or franchise restaurants with consistent practices and standards.
More easily installed in all kinds of equipment and locations with wireless bluetooth connections, minimal maintenance is required.
Connecting to the Benefits with ComplianceMate
Major players in the restaurant industry use ComplianceMate systems to streamline processes and manage BoH operations to a high degree of quality and consistency. We have helped many large chains and small local eateries implement the advantages that this technology provides, and we can answer any questions you have about how our systems can fully support your success.
Utilizing the best tools available to protect food quality and prevent waste can improve the bottom line of any food service business. You can see how easy it will be to implement the Internet of Things and take advantage of the benefits of wireless temperature data systems by scheduling a free demo for your restaurant today.
Sources:
https://www.foodsafetynews.com/2019/08/running-a-little-hot-and-cold-avoid-the-food-safety-danger-zone/