As many restaurants and grocery stores struggle with labor shortages while expanding their pickup and delivery services, many franchises and large chains are focusing on foodservice business intelligence to effectively do more with less effort. These tools allow foodservice professionals to protect food quality and reduce waste while better managing a smaller labor force.
Understanding the Labor Shortage in the Foodservice Industry
The foodservice industries are enduring a perfect storm when it comes to hiring qualified employees and maintaining a profitable bottom line. Some of the reasons that restaurants and grocery stores are experiencing such a profound labor shortage include:
Former employees have relocated or found remote work opportunities

Every business is trying to rehire at the same time that restaurants are hiring in order to reopen or expand indoor and outdoor dining,

A perception that working in a grocery store or restaurant might increase health risks

Competition from higher paying jobs available in other industries
These factors and other regional labor shortages have combined to make workforce management a challenge for the entire foodservice industry. Seeking ways to utilize the available talent effectively, many nationwide and regional restaurants and grocery stores are turning to foodservice business intelligence to streamline their processes.
Boosting Efficiency While Improving Food Handling
The answer for many businesses is automation of labor-intensive tasks to better utilize employee time and attention. Innovative tools like ComplianceMate® allow restaurants to automate back-of-house processes of logging data and completing checklists by hand. Putting this information into the cloud allows access to data that can be used on a larger scale for improving trends or highlighting problem areas of the business.
Grocery stores that have added significant pickup and delivery services not only have the checklists and compliance requirements that support their normal process to contend with, they now have orders being held and transported which must be tracked for safe handling throughout their journey. If your store or eatery is still performing these compliance tasks by hand, there may be a huge opportunity to more efficiently leverage your limited labor force.
The Benefits of Using ComplianceMate Technologies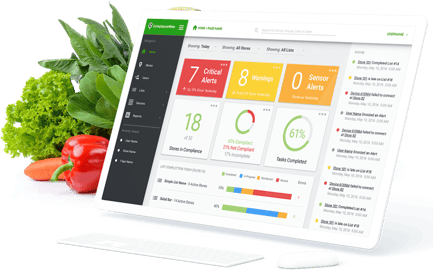 ComplianceMate provides automated technologies that have streamlined the processes for industry giants and small chains across the country. Some of the benefits to efficiency that businesses like Five Guys, Hard Rock Cafe, Shake Shack, City Barbeque, and Taco John's enjoy are:
Digitized checklists.

Using a handheld device to track required checklists digitally reduces the time needed for employees to complete them by 50%.

Automated temperature monitoring.

Eliminating the need for manual monitoring and adjusting, this system tracks safe food temperatures 24/7 to reduce food waste.

Immediate alerts.

Even from a distant headquarters, managers can monitor food temperatures and receive real-time alerts if digital tasks are behind schedule or food temperatures fall outside set limits.

Cloud data storage.

By uploading the data automatically generated by the system to a secure cloud environment, fewer managers can more easily analyze information and compare location performance to identify best practices.

Clear audit trails.

Easily audit and refine processes by collecting accurate information about who performed which tasks and how long they took to complete.

Actionable business intelligence.

With the details and results of existing processes at your fingertips, you can spot opportunities and trends, then plan for the most effective changes for your specific situation.
How Foodservice Business Intelligence Can Improve Your Process
Automating your foodservice processes ensures accountability, highlights areas for improvement, and helps control labor costs across the board. If you would like to learn more about how to improve your processes and your bottom line, schedule a free demo of ComplianceMate today and enable your valuable employees to focus on the activities that generate revenue, maintain brand standards and satisfy your customers.